special offer! only available in tienda.lunatico.es
(limited units)
QHY183 Colour. QHYCCD Medium Size Cooled USB 3.0. 20 Megapixel! For high-resolution with modest size telescopes.
The QHY183 is a one-inch, 20 Megapixel back-illuminated COLDMOS color camera. The pixel size is 2.4um for high-resolution with modest size telescopes. The camera is capable of producing 19FPS@20 Megapixels. It has a two-stage TEC that cools the sensor to -40C to -45C below ambient. The ADC is 10/12-bit and 8/12-bit output with 1e- read noise! The computer interface is USB 3.0 and exposure times can be set from 50us to approximately 1000 sec.
128MB DDRII Image Buffer
The QHY183 has a built-in 128MB DDRII image buffer. The benefit of the image buffer is that the memory will cache the image and transfer it to the computer when the USB interface is not busy or being interrupted, and the frame will not be lost or corrupted. This buffer also allows a slower computer with USB 2.0 socket to capture every frame without loss even if the USB socket is occasionally busy with other peripherals. This buffer also helps multiple camera applications and avoids USB transfer problems. For example, it is possible to operate four QHY183M cameras on the same computer to create an LRGB imaging array.
Full Anti-Dew Solution
With more than a decade of experience designing cooled cameras, QHYCCD has applied this knowledge to the QHY183 camera. The full anti-dew technology includes a sealed CMOS chamber with silicon gel tube socket and a heated chamber optical window. This technology prevents dew from forming on the sensor itself, or on the chamber window, even in a high humidity environment.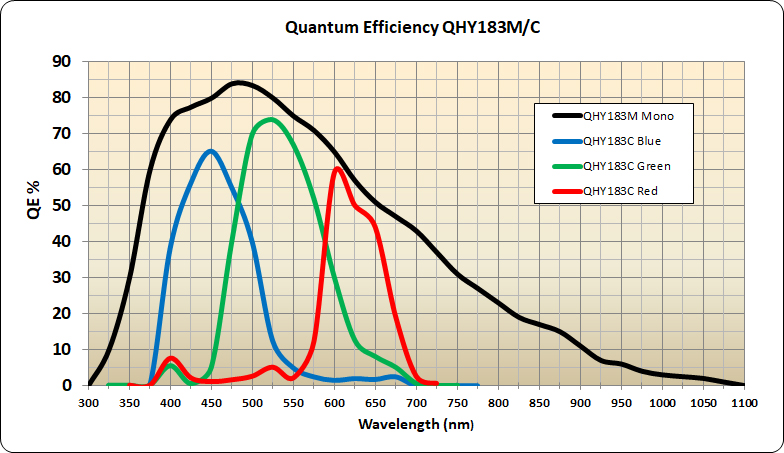 QHY183C BSI sensor shows a very little reflection. (The illustration is used to show the structural difference between FSI sensor and BSI sensor)
Main Features
Cmos sensor: SONY IMX183 Monochrome
Effective Pixels: 5544*3694 20mg
Pixel Size: 2.4um * 2.4um
Effective Area: 13.3*8.9 Typical 1"
QE:

TBD

Frame Rate :

20 megapixel 19FPS
4K HD 31FPS
12 megapixel 31FPS

Output Bit: 10bit and 12bit
Readout Type: low 1e@high gain 2.7e @gain 0
FullWell: 15000-16000e
Exposure Time: 50us - 3600 sec
Data interface: USB 3.0 high-speed interface
Built-in DDR memory: 128MB DDR memory
TEC: 2-stage TEC with -40C below ambient with temperature regular
Electric Interface: 12V input with lock, USB3.0 socket, 4PIN QHYCFW, 6PIN RJ11. Wheel control port.
Software: SharpCAP, EZCAP_QT, ASCOM Driver, WDM Driver, Live Video BroadCast Driver
Weight: approx 450g (with M42/0.75 adapter)

The camera is ready to be used:
Camera QHY183M
USB3.0 cable(1.5m)
Self-locking power cable
6pin guide cable
Car power adapter
Drying tube for desiccant
M42/2inch adaptor(Maximum diameter: 56mm)
QHY183C Images.
NGC6992 with QHY183C by Maximo Suarez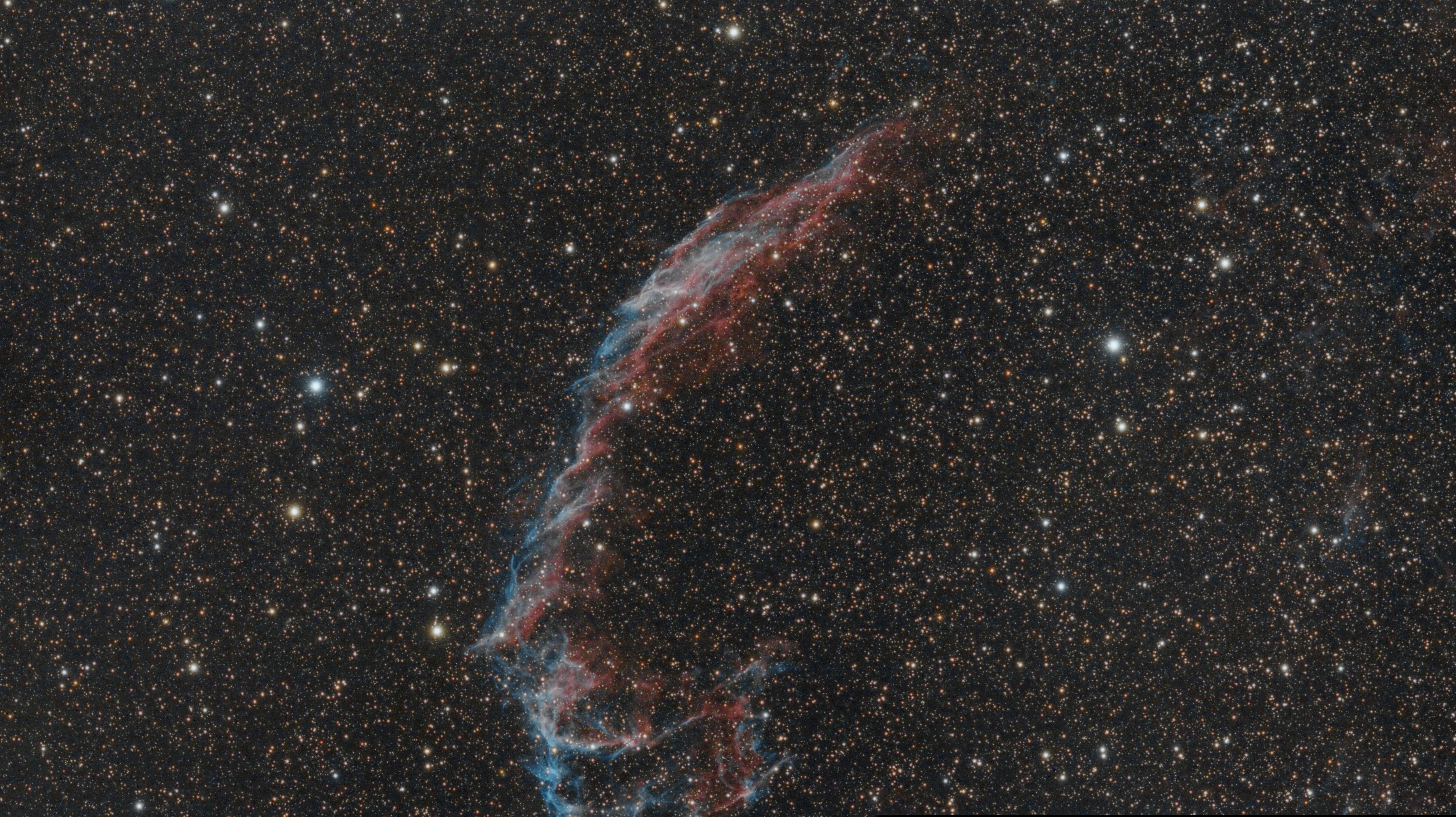 Color Moon with QHY183C by Maximo Suarez
In stock
Delivery period: 3 working days
Possible delivery methods: Registered mail: rest of the world, Courier service: Spain/Peninsula, Courier service: Spain/Island, Courier service: U.E., Courier service: rest of the world, Registered mail: U.E.