TS PHOTOLINE APO Refractor 110mm f/7 - optimized for astro imaging - 3" Crayford focuser 1:11 dual speed ... optimal field illumination and contrasty images with ED glass
For astro imaging
When purchased together with this telescope, we can offer the TS PHOTOLINE 3" Flattener with a special price.
Our TS PHOTOLINE Apo 110/770mm convinces with a high grade of colour correction and a photographic field for full-format DSLR cameras. Its precise 3" Crayford focuser offers a non-vignetted field and more stability compared with a standard 2" focuser. The TS Photoline ED APOs are the new generation of refractors especially designed for deep sky imaging.
TS Photoline 110mm ED APO advantages:
highly corrected and adjustable ED doublet system
compact and transportable with retractable dew cap
robust & oversized 3" Crayford focuser with 1:11 dual speed transmission (2" + 1.25" reducer included)
CNC machined metal tube rings for strong mount connection
The hand-crafted lens with ED element is equipped with an adjustable and temperature compensated cell. It comes multi-coated on every glass/air surface.
A specialty: The 3" Crayford focuser for optimal illumination of large sensors

A 2" focuser causes vignetting when used with a large-format sensor and a fast system. The bigger 3" focuser supplied with this telescope guarantees an unvignetted visual and photographical field for sensors up to 24x36 mm.

better mechanical stability with big ball bearings
360° rotation for perfect framing
1:11 dual speed focuser for precise focusing
the large 3" TS Flattener screws directly to the M80 thread - no tilting!
Technical details TS Photoline ED APO 110/770mm:
hand crafted and adjustable 110mm f/7 doublet with ED element, fully multi-coated
3" Crayford focuser incl. reducer to 2" and 1.25"
Dual Speed - Mikro transmission for precise focusing
Blackened lens edges for straylight suppression
Retractable dew cap
CNC machined tube rings
Weight OTA incl. tube rings: 5.9 kgs
Length: 64 cm
Dew cap diameter: 14 cm
OTA diameter: 11,7 cm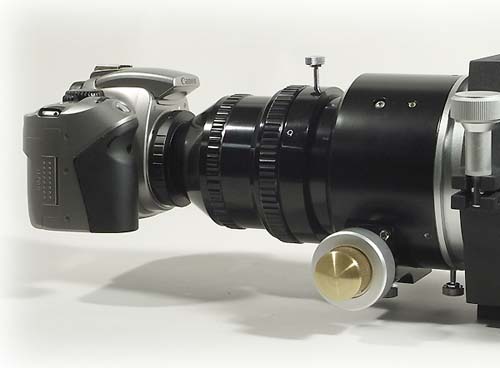 The TS PHOTOLINE 3" Flattener (not included) has a free aperture of 68 mm and comes with a T2 reduction.
Scope of delivery TS Photoline ED Apo 110/770mm:
Optical tube assembly with adjustable ED lens
Front dust cover for lens
2" and 1.25" reducer with brass compression ring
CNC tube rings