TS Optics PHOTOLINE Triplet APO 102/700mm - with 3· Crayford focuser - FPL53 Triplet APO objective

APO refractor for high-performance seeking astrophotographers - fully illuminated larger sensors
... temperature compensated lens cell - fully adjustable.

This PHOTOLINE Triplet APO offers such a high image quality as has previously been the domain of much more expensive APOs. False colour has been reduced so much that it no longer plays any practical role. Correction is much better than in standard doublet ED refractors.

The objective is air-spaced, not cemented. This avoids thermic problems often occuring in cemented triplet lenses. We tested this telescope with the optional TS field flattener and compared it with a similar refractor with 110mm aperture. This direct comparison showed much better photographical results on the 102mm APO. The telescope is recommended without reservations up to about 45mm sensor diagonal.

This TS PHOTOLINE Apos offers a high grade of colour correction and a photographic field for full-format DSLR cameras. Its precise 3" Crayford focuser offers a non-vignetted field and more stability compared with a standard 2" focuser. The TS Photoline APOs are the new generation of refractors especially designed for deep sky imaging.

The 3-lens element apochromatic refractor for visual use and demanding astrophotography. The FPL53 OHara Objective performs extremely good with great sharpness and contrast. The mechanical components such as the 3" Crayford focuser stand for high rigidity and precise focussing even higher payloads like CCD cameras with filterwheel, OAG and AO or other accessories.

Even Moon and Venus appear color free at 400x magnification.

The TS 102mm f/7 PHOTOLINE Triplet APO advantage and features:
102mm Triplet with air gap - APO Element FPL53 from OHara Japan
temperature compensating cell - fully adjustable
transportable due to the retractable dewcap - Tube lenght of only 61,5cm
CNC tube rings with flat sides
3" Crayford with 1:11 dual speed for a maximum illumination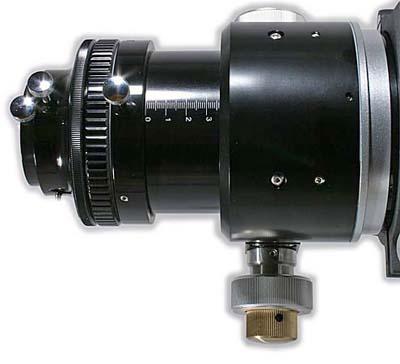 For astro imaging
When purchased together with this telescope, we can offer the TS PHOTOLINE 3" Flattener with a special price.
With the optional TS PHOTOLINE 3" Flattener this APO offers perfect image sharpness to the very edge of the photographical field.

The TS field flattener, aside from offering a superb image quality, has another great advantage: The back focus is much larger than the 55mm offered by most other flatteners. This allows you to place additional accessories between the flattener and the camera, for example Off Axis Guiders, filter wheels...

With that great advantage the 130mm APO becomes a top instrument for demanding astro imaging.

Contact us if you want as to help you in selecting the optimum configuration for you.
The large format 3" Crayford focuser guarantees a maximum of rigidity and mechanical performance with a perfect illumination. All common correctors / flatteners like the TS 3" fullframe flattener or the Riccardi 0,75x reducer can be screwed directly to the focuser M63x1 thread
camera side: M80x1, M68x1 , 2" with ring clamp, 1,25" with ring clamp
360° rotation
1:11 dual speed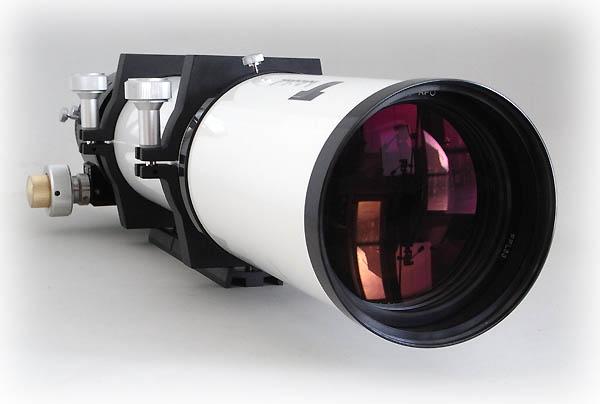 Technical specifications:
3-lens APO with air gap , multicoating - FPL53 OHara
aperture: 102mm
focal length: 700mm
aperture ratio: f/6,85
weight: 5,6kg
tube diameter: 105mm
length with retracted dewcap: 615mm
CNC tube rings
backfocus app. 160mm
tube made of aluminium due to temperature compensation with computer calculated baffle system
Scope of Delivery:
TS 102mm f/7 triplet apo
CNC cradle rings
dovetail bar (GP level)
very solid aluminium transport case